Nika ist im Catrice Sortiment eine weitere Farbänderung ohne Namensänderung aufgefallen und sie hat mir direkt beide Lacke mal mitgebracht, um sie für euch zu fotografieren. Es handelt sich um "From Dask to Dawn". Früher ein mitteldunkles Taupe, heute ein dunkles lila-schimmerndes.
Links: neue Version, rechts: alte Version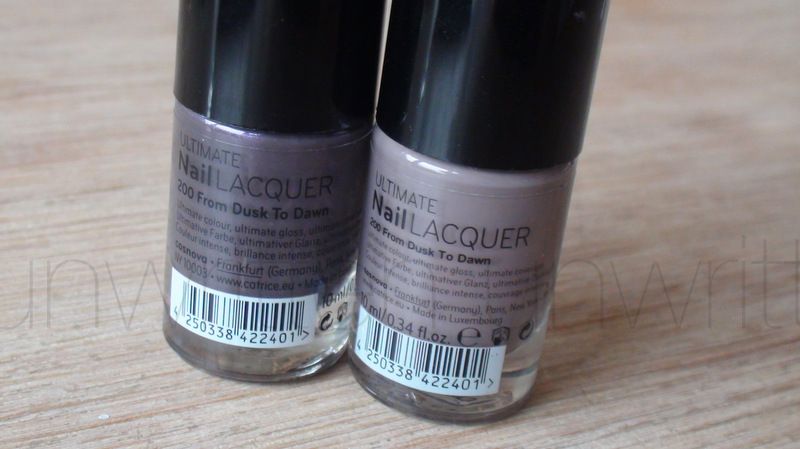 Dann ist mir direkt noch ein anderer Lack eingefallen, der der neuen Version ziemlich ähnelt. Klaar, "Paradoxal" von Chanel. Schnell mal Vergleichsfotos geschossen. Man muss dazu sagen, dass der Schimmer auf den Fotos ziemlich krass rüberkommt und mit dem bloßen Auge auch wesentlich wärmer wirkt, als hier auf den Fotos.
Links: Chanel "Paradoxal", rechts: Catrice "From Dask to Dawn"
Absolutes Dupe! Der links von Chanel ist lediglich etwas bräunlicher, wogegen der von Catrice etwas dunkler wirkt. Ist ja eigentlich ganz nett, aber kommt doch etwas spät oder? :D
Also für mich sind diese Änderungen (
hier
die erste, die mir aufgefallen ist) irgendwie fragwürdig. Klar ist es super, wenn einer Marke immer wieder neue Farben rausbringt, aber dann kann man sich doch ruhig auch mal die Mühe machen und sich neue Namen dafür ausdenken.
Catrice
ist ja eigentlich eine der Firmen mit den absolut besten Produktnamen. Sehr schade, auch wenn's natürlich eigentlich nur nebensächlich ist... was meint ihr?
Welche Farbe gefällt euch besser? Alt oder Neu? Liebste Grüße